In 2022, content marketing was more than a catchword, and most marketers were careful in their approach to the tactics their colleagues used. Seven years from then, content marketing has unfolded in many distinct areas like content strategy, creation, and measurement, to name a few. Content marketing always gives you something new to learn.
Let's now focus on five insights that will drive your content marketing; the insights are based on the replies of 1,102 B2B marketers in North America.
Devote Time to Content Marketing

Unsuccessful B2B marketers specify the critical reason for their failure is "not enough time devoted to content marketing." Most B2B marketers have experienced stagnancy in success rate compared with last year. They were unable to devote proper time to content marketing; hence, their success decreased compared to the previous year.
What to learn from this insight
Schedule your day so that you can devote time to content marketing. Be sure you have a strategy for content marketing before you do anything else. Set your budget, goals, and audience, and create your content marketing strategy accordingly.
Create a Strategy and Then Stick to It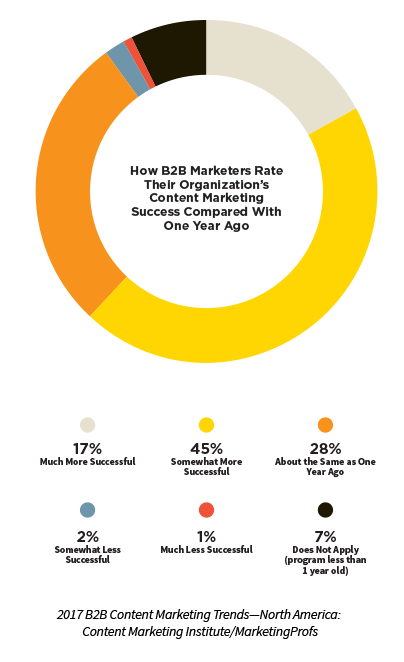 Adjusting content marketing strategy and compelling content creation appears to be the most influential factors. Content creation is no longer a challenging issue for a company compared with past years.
What to learn from this insight
While some marketers are told to experiment and repeat to get better results, it is also essential to look at the bigger picture, such as strategy, people, and process. It is better to follow proven methods rather than tinkering with your strategy.
Get Approval from Higher Management

According to the stats, almost one out of four B2B marketers aren't given ample time to get content marketing results. Fifty-two percent of respondents agree that their superiors provide ample time to produce results, twenty-four percent disagree, and 24% neither agree nor disagree.
What to learn from this insight
Content marketers supported by their team leaders feel authorized to try other things & take risks. If you are not given ample time to get results, consider this stat: 77% of the top performers have ample time to produce results. So, having enough time to generate results positively affects content marketing.
Content Marketing Performers Have Unique Characteristics
Top performers in content marketing are mature with their content marketing strategy. These elite performers are the performers who have characterized their organization's content marketing approach as successful.
What to learn from this insight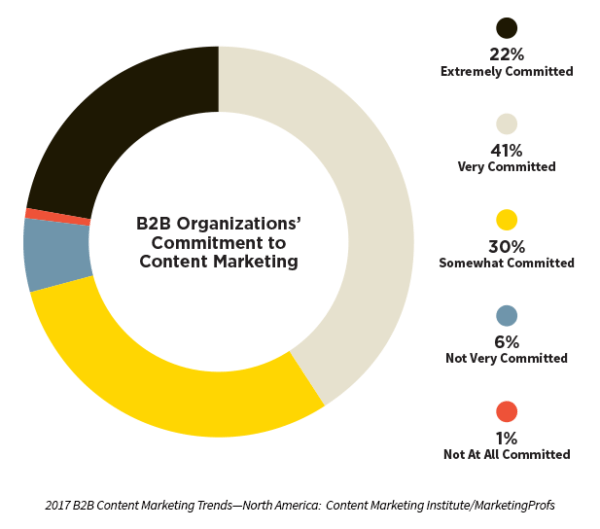 Find out areas where content marketers can do things differently. Are you dedicated to content marketing? Do you bring content constantly? If you cannot answer these questions, focus on these areas for improvement.
Stay Committed to Your Program for Best Results
Ninety-one percent of B2B content marketing performers are committed to content marketing. Those who show a low level of commitment are from the organizations in the young phases of content marketing. As an organization develops in content marketing, it becomes more loyal to the approach.
What to learn from this insight
Go all in or nothing with content marketing. There is a need to have a strong commitment in the young phases as it can take more than a year to see content marketing results.
If you have more research insights to drive your content marketing, mention them in the comment section.